CHAMPS before & after school provision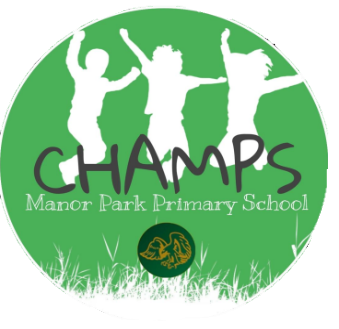 It is our belief that all children should have the opportunity to play, to explore, to manage their own risk and to be allowed the freedom to make choices. Our aim is to provide a home from home environment, where children feel safe and valued. We work on a 1:10 adult child ratio, adhering to the Welfare Requirements at all times.
If you require any further information please contact Karen Buckley on: 07895962725 or email K_Buckley@manorpark.coventry.sch.uk
Our opening times and current costs are as follows;
7.45am-9am (breakfast session) £4.50 per day, per child
3.30pm-4.30pm £4.50 per day, per child
3.30pm-5.30pm £8.50 per day, per child
3.30pm-6pm £10.50 per day, per child
Breakfast is served until 8:25am.
A light snack is provided to help top up the energy levels until home time. Both menus are on a 6 day rotation. Fruit and water are always available.
Our children were asked the following question:
"What do you like about coming to CHAMPS?"
Here are a selection of their answers:
"I like playing with my friends." - New friendships are formed regularly amongst our children, often with different ages.
"I like playing outside" "Playing on the equipment outside" - We have access to the large playground and adventure play area as well as the fields.
"I like going in the hall." - Always available on dark nights and during bad weather
"I like building cars with K-nex"
"Playing with the playdoh"
"I enjoy playing around and using the whiteboards."
"There's loads of toys"
"I like snack and I also like junk modelling"
"I like dressing up"

CHAMPS CHILDREN