Manor Park University
We are very excited to tell you all about our unique opportunity for the children: Manor Park University!
Every Friday afternoon, the children will attend the university to develop knowledge and skills in a course of their choice. Each half term, the children will have the opportunity to choose from a range of diverse and engaging courses in four different faculties linked to our school houses: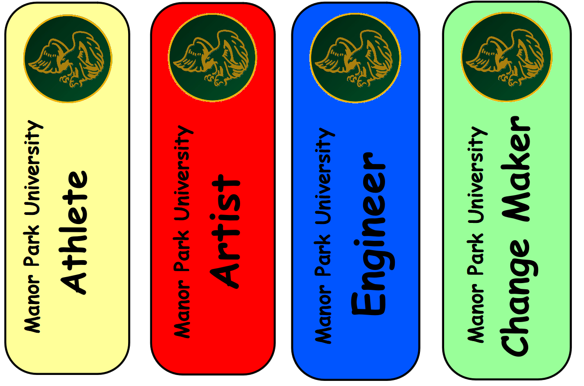 Courses are run by our staff as well as outside providers and cover a range of sports, including ice hockey and taekwondo, and arts, such as theatre, dance and pottery. Children have the opportunity to learn outdoor skills in our forest school, develop their musical abilities, build robots using their computing knowledge and so much more.
A small number of courses are compulsory to ensure that all children are given the chance to become competent swimmers and safe cyclists during their time at Manor Park.
The children will attend their chosen course every week for a half term. They can pursue courses in one area if they have a particular passion, or they can make choices across the four areas to encourage a breadth of skill development.
At the end of the upper phase (Year 6), the children will be invited to attend a graduation ceremony where they can celebrate their successes with their teachers and friends.
We are always looking for more exciting opportunities for the children and if you feel you could offer something for half a term, please get in contact – we would love to hear from you.