Year 4
Welcome to Year 4!
Year Four is part of the 'Upper Phase' in our school. Mrs Brown is the phase leader and her role is to support the staff, children and families. If you have any questions, concerns or positive feedback then we would love to hear from you.
t_brown@manorpark.coventry.sch.uk
The staff in Year 4 are:
Class 15 - Miss Holloway (Class Teacher) Mrs Bowler & Miss Elward
Class 16 – Mrs Wanley (Class Teacher) Mrs Sahota & Miss Ellis
Class 17 - Mr Kirby (Class Teacher) and Mrs StJohn
In Year 4, we promote positivity, persistence and independence. We are a very hardworking year group and we strive to ensure every child makes good progress and reaches their full potential, as well as having an enjoyable and memorable year.
We have some very exciting learning opportunities throughout the year, including our topics, 'Invaders', 'Waves' and 'Totems & Tepees'. Children will be visited by a Roman soldier, have the opportunity to spend the day exploring the Sea Life Centre and take part in a Native American Pow Wow day. We look forward to sharing information about these plans nearer the time.
The Year 4 team look forward to welcoming your children and working with you to ensure that they have a happy and successful year. If you have any questions that you need to discuss with your child's class teacher or myself, please do not hesitate to contact the school to make an appointment.
Mrs Brown
Upper Phase Leader
Year 4 Twitter
05/05/2021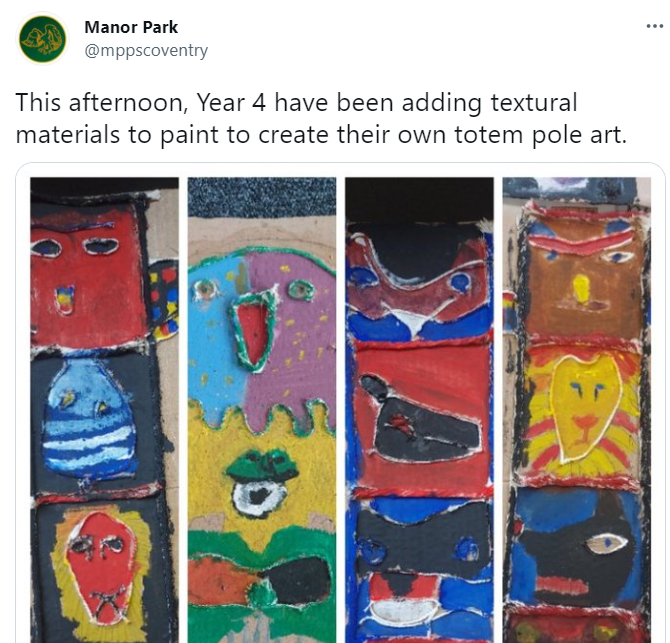 ---
30/06/2021
Year 4 have been writing some poetry based on their topic 'Totems and Teepees' Fantastic work Year 4.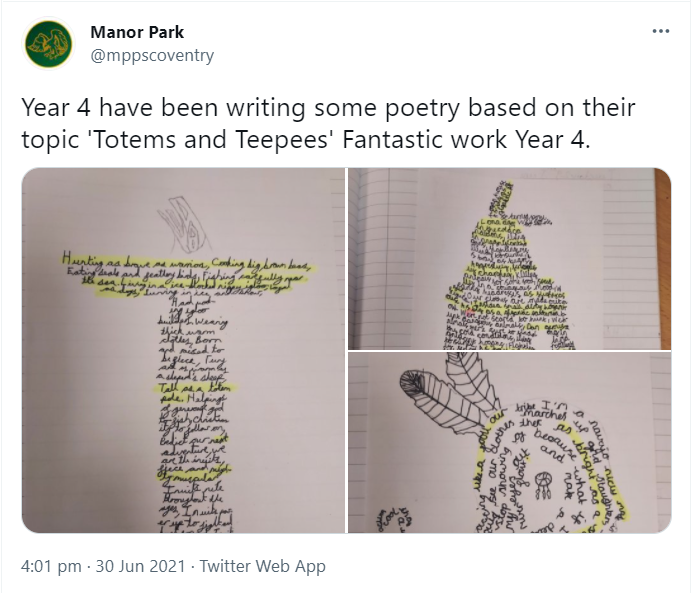 ---
24/06/2021
A huge well done to all of our Year 4 children who completed their MTC this week. We are incredibly proud of how hard you have worked Year 4 - absolute superstars!